Consultant Details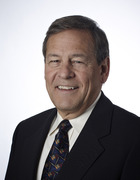 Rich Meiss, MBA, MPCT
Senior Training Consultant
Phone
Fax
"Delivering a 'presentation' has always been harder for me than facilitating or training with participant-centered training techniques," says Rich Meiss, senior training consultant for The Bob Pike Group, while discussing the beauty of participant-centered training. "But I've discovered that even in large groups with limited time, I can still involve my audience every eight to 10 minutes and have them take away more ideas than if I was the only speaker. As we say at TBPG, 'the brain that does the talking is the brain that does the learning.'"
Rich has been a participant-centered trainer with Bob Pike and other leading Train-the-Trainer organizations for more than 25 years. Some of his favorite a-ha! moments have occurred during technical training with organizations such as the United States Marine Corps, the United States Air Force and individual National Guard units. "Seeing technical trainers' eyes light up when they discover that there is another way to train besides lecture and PowerPoint is always a delight," he shared. "I love it even more when they write to me after a workshop and tell me the techniques they've incorporated and how they are working for them."
Rich has held executive positions with Personal Dynamics Institute, Carlson Learning Company (Inscape Publishing), and The Bob Pike Group. A few of Rich's facilitation specialties are on Powerful Presentations, Effective Facilitation and Meeting Skills, and Coaching for Success. He also has designed and taught numerous workshops to more than 65,000 trainers and leaders worldwide. His personal approach causes audiences to warm to him instantly - most of his work is with repeat clients who continue to ask specifically for him.
Rich is author or co-author of five books including Coaching for Results and SCORE: Super Closers, Openers, Reviews and Energizers for Enhanced Results.