Consultant Details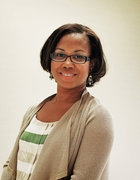 Michelle Stidwell
Training Consultant
Phone
Fax
Michelle Stidwell is passionate for performance improvement in individuals, teams, and organizations. She's also passionate about participant-centered training and the impact it has on delivering measurable results. Michelle attended her first Bob Pike Training over 10 years ago, and it changed her approach to design and facilitation.

She recalls when she was given an entire workbook of supplemental activities to support a sales program she was delivering. Her initial reaction was "why do I have to incorporate these into this training?" After attending her first Boot Camp, her question of "why" was answered! "When you really understand Adult-Learning Theory and the value of engag¬ing the participant every 8 minutes to aid in learning retention – it all makes sense," says Michelle. People are more excited about training and eager to learn when they realize that this will not be another boring, lecture, "death by slide show" session.

Michelle Stidwell loves to share her wide variety of experience in Corporate Sales and Man-ufacturing Training. Since 1990, she has functioned as a catalyst for sales teams and indi¬viduals, pioneering efforts to sharpen skills in interpersonal communication, performance management, leadership development, change management, and diversity/inclusion.

Michelle has worked in the area of Learning and Development for General Mills, Inc., a Fortune 500 company consistently ranked in the Top 100 by Training Magazine. During her tenure, she was responsible for instructional design and facilitation of all Corporate Sales New Hire and Intern Training courses impacting over 300 participants annually. In addition, she applied her Bob Pike Training knowledge in the design and delivery of course curriculum for New Account Managers.

She has also worked for Sara Lee and Bimbo Bakeries USA with a focus on leadership skill building with both sales and manufacturing teams.
Michelle earned her Bachelor of Arts degree in Rhetoric and Communication Studies from the University of Virginia. She is a member of the Association for Talent Development and is a certified Human Behavior Specialist.