Consultant Details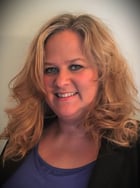 Erin Fullerman
Training Consultant
Phone
Fax
Erin attended her first Bob Pike Group conference years ago and was immediately transformed as a trainer. The Instructor-Led Participant-Centered model took the "it's not about me, it's about you" idea to a new level. Ever since then, Erin has been passionate about transforming the classroom and virtual classroom into places learners want to participate in their own learning and have fun at the same time.
Before joining BPG, Erin spent over a decade specializing in technical and online learning. She created and presented classroom training and online courses for major television programs, Fortune 500 Companies, government agencies and prestigious universities. She designed teaching aids, user guides, technical manuals and training programs for software applications.
Erin graduated from Youngstown State University with a degree in English Communications. She was the senior training specialist for Turning Technologies where she trained on audience response technology.
Clients Trained Include: The Dr. Oz Show, Live with Regis and Kelly, Who Wants to be a Millionaire, ABC Studios, NFL, MTV, Apple, Microsoft, Frito Lay, Pepsi Co., Exxon Mobile, AT&T, ACT, NASA, FAA, U.S Coast Guard, Army, Navy, Marines, USDA, The Ohio State University, Harvard University, USC, Vanderbilt University, DeVry and NYU.