Consultant Details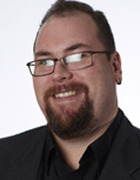 Marc Ratcliffe, M.Ed, MPCT
Training Consultant
Phone
Fax
Marc Ratcliffe founded MRWED Training and Assessment in Brisbane, Australia in 2000, and it quickly became one of Australia's leading providers of trainer training. It has received numerous awards including the 2010 LearnX award for Best Workplace Trainer Training Program. Marc himself was named one of Training magazine's Top 10 young trainers in 2009.
In 2011, Marc chose to become a Bob Pike Group certified trainer for our Boot Camps so he could license our workshops in Australia. He also recently joined our training faculty here at The Bob Pike Group.
"I had seen Bob Pike at Training magazine events and some years later decided to attend The Bob Pike Group annual conference in Minneapolis," Marc explained. BPG's training methods drew Marc in. "They are easy to understand and easy to integrate into any training. The bottom line is they improve engagement and retention, and when you find something that works, you should stick to it!"
Marc has been involved in Workplace and Vocational Education for 21 years and has conducted more than 300 Training and Assessment courses over the past 15 years. He is the author of The Trainer's Toolkit and the forthcoming book The Trainer's Cook Book and is one of Australia's most in-demand conference speakers and workshop facilitators. He has presented training-related workshops internationally in the UK, North America, Africa and Asia. Marc is a Registered Teacher and has completed a Masters of Education specializing in Adult and Workplace Education. In 2012, he was awarded a Global HR Award for "Strategic Leadership" by the World HRD Congress. Marc continues to push the boundaries of "edu-tainment" and believes that participant interaction and fun are integral to the learning experience.