Consultant Details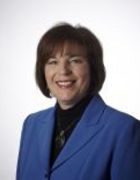 Adrianne Roggenbuck, M.Ed., MPCT
Training Consultant
Phone
Fax
Before discovering instructor-led, participant-centered training, "I used to worry about having to talk for eight hours while delivering training," explained Adrianne Roggenbuck, training consultant at The Bob Pike Group. "I learned that participant-centered training allows me to talk less because the participants are doing more active learning. My voice is saved and the participants retain so much more."
Since joining The Bob Pike Group, Adrianne has championed Research-based Creative Teaching Strategies and Designing Lessons that SCORE, two workshops specifically for teachers. "I enjoy working with educators to improve their teaching techniques in order to increase student learning and retention in their classrooms," says Adrianne, a former teacher. She also has specialized in Presentation Skills to help other presenters "overcome their fears and succeed as public speakers. I can see the growth in every participant's performance during the three days of the class and that is extremely rewarding."
After 19 years in the classroom, Adrianne's passion for learner-centered excellence took her to the Professional Development Alliance in Joliet, Ill., where she was responsible for all aspects of designing and delivering learner-centered, engaging training programs in a variety of subject areas including standards alignment, reading, and writing.
As a dynamic, memorable and inspirational trainer, Adrianne presents regularly at education conferences. She also is an adjunct instructor for graduate-level classes at Aurora University and Waubonsee Community College in Aurora, Ill.
A partial list of Bob Pike Group clients Adrianne has partnered with includes: Shell Global Solutions, Spring Branch I.S.D., Chicago City Colleges, University of Minnesota, Harris County Department of Education, Santiago Canyon College, Los Angeles Unified School District, New York State United Teachers Union, and Ohio Rehab Services Commission.