Consultant Details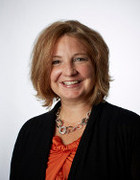 Becky Pike Pluth, M.Ed., CSP, MPCT
President and CEO
Phone (952) 829-9210
Fax (952) 829-0260
With more than 15 years as a training professional and two training industry best-selling books on the market, Becky Pluth, The Bob Pike Group's Chairman & Chief Training Officer, doesn't rest on her laurels. "Continuing education, whether formal or informal, is critical for those of us in education!" Becky said. "And, for many of us in this industry, I think the desire and passion for learning comes naturally."
As proof of her desire to continuously strive for "great," Becky was named one of Training magazine's Top 40 under 40 in 2012.
Becky has more than 17 years of exposure to Bob Pike's Creative Training Techniques (CTT) and vast experience in cross-functional training design and delivery, project management and business operations. She easily employs a participant-centered approach to classroom training, one-on-one training and blended e-learning. Becky also infused CTT into all of her design and development while working as a corporate trainer for Target Corporation and overseeing the training department at Event Think, a multi-million dollar event management and communications company.
Programs she has particularly enjoyed designing and delivering include Webinars that Work, organizational-change management, systems training, and leadership and team development.
Becky's charismatic personality and facilitation style place participants at ease, and she empowers each learner to leave their training setting and immediately put their insights into action. Sustainable, practical change and strong adult learning principles in practice are her foci.
Becky has helped many Bob Pike Group clients realize cost savings and training efficiencies through utilizing a participant-centered approach. Some Bob Pike Group clients who have consulted with Becky are: Bose, Cisco Systems, Coca-Cola, Hewlett Packard, Intel North America, Interval International, Karl Storz, Kellogg's, Kimberly Clark, Kraft, Medica, Microsoft, Minnesota Education Association, National Park Service, Sepracor, Tampa Electric, Target Corporation, Uline, USA TODAY Education and Wells Fargo.
Becky is a certified K-12 teacher and received her master's degree from St. Mary's University. She is a member of the American Society for Training and Development and the National Speakers Association. She also is the author of the award-winning 101 Movie Clips That Teach And Train and Webinars with WoW Factor.